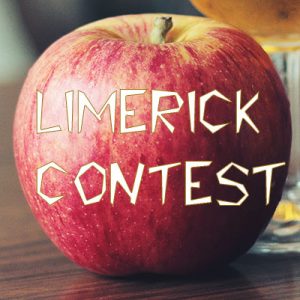 Sponsored by Jane Buttery
Prizes: 1st $8.00, 2nd $5.00, 3rd $3.00
** Class 69 **, Section 10: 18 and up (adult) (as of August 27th)
Try your hand at a limerick this year! It must be based on the Harrow Fair's theme – Sew It, Grow It, Show It.
The limerick must be five lines; the first two lines have 7 (up to 9) syllables each, the next two have 5 syllables each and rhyme and the last has 7 (up to 9) again and rhymes with lines one and two. It can be very silly!
Here is an example:
A poor farmer named Jonathan Mounty,
For Harrow Fair sent his best bounty
To his great surprise
He won the top prize
and for that he was named best in the county.
Rules:
1. Open to 18 years and older.
2. Paper size need not be 8-1/2 x 11"; it may be smaller.
3. May be illustrated.
---
Limerick – Junior & Intermediate
Sponsored by Richard Kokovai
Prizes: 1st $10.00, 2nd $6.00, 3rd $4.00
Class J97, Section 1
See Class 69 Section 10 for description and rules #2 and #3
Age 8-12
Class INT 71, Section 1
See Class 69 Section 10 for description and rules #2 and #3
Age 13-17