1st – Adeline Neumiller
2nd – Zoe Louis Gall
3rd – Connor Latour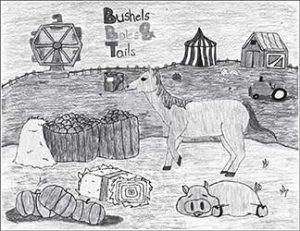 Thank-you to the following students who entered the competition:
Johnny K.
Ethan B.
Emma D.
Myah B.
Parker W.
Ella P.
Layla O.
Damien
Keegan
Owen B.
Dakohta O.
Jayclen G.
Chese
Lexi K.
Daniella Mc
Sara
Hailey
Owen
Miele W.
Brayden
Peyton
Sydney S.
Grace F.
Nicholas A.
Chase C.
Beteyna S.
Lisa
Breanna S.
Natalie B.
Rachel W.
Be sure to stop in the Arts & Crafts Barn to see the students' work!
Look closely and you will be amazed at what you see!