Theme for 2023
"Sew It – Grow It & Show It"
Rules:
Participants must be in grades 6, 7 & 8.
Designs are to be done on a white 8 1/2″ x 11″ sheet of paper using the Harrow Fair Theme shown above.
Designs are NOT to be done on a computer.
Your name, grade, school and home phone number must be on the back of your design.
The designs must be received by March 1st. Designs must be mailed to:
Harrow Fair, Box 555, Harrow, ON N0R 1G0
Prizes to be awarded are 1st – $20, 2nd – $15, and 3rd – $10
The winning designs will be displayed in the 2023 Harrow Fair Prize List.
All entries become the property of the Colchester South and Harrow Agricultural Society
DO NOT include Colchester South and Harrow Agricultural Society and Fair dates in your design.
2022 Winning Entries
1st – Adeline Neumiller
2nd – Zoe Louis Gall
3rd – Connor Latour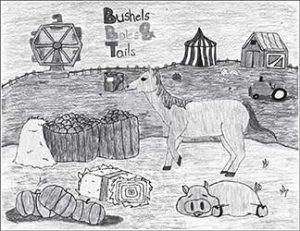 Thank-you to the following students who entered the competition:
Johnny K.
Ethan B.
Emma D.
Myah B.
Parker W.
Ella P.
Layla O.
Damien
Keegan
Owen B.
Dakohta O.
Jayclen G.
Chese
Lexi K.
Daniella Mc
Sara
Hailey
Owen
Miele W.
Brayden
Peyton
Sydney S.
Grace F.
Nicholas A.
Chase C.
Beteyna S.
Lisa
Breanna S.
Natalie B.
Rachel W.
Be sure to stop in the Arts & Crafts Barn to see the students' work!
Look closely and you will be amazed at what you see!