Essex County 4-H Swine, Beef, Sheep & Poultry Auction Sale
Harrow Fair Show Ring
Friday, September 1, 2023
3:00 pm
Auctioneer: Marty Unholzer
---
Swine – Beef – Sheep – Poultry
Auction order to be announced the day of the sale.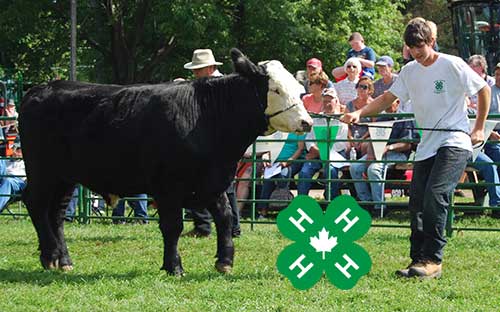 Thank-you to all our 2022 Essex County 4-H auction buyers.
Your support helps our 4-H program grow in Essex County.
4-D Sausage
Adam Durham
Adam & Karen Schmitchen
ADM-Agri Industries Ltd.
Agris Co-operative, Cottam
Amy Pearce
Banwell Douglas Profession Corporation
Barrette Excavating Inc.
Barrette Glass & Mirror
Benny Diesbrecht
Buddy Maxey Grater
Chris Galos
Chad Gill
CK MechanicalCountry Fresh Packers
Dave & Jamie Kendrick
Dennis Lang
Dennis Samson
EGE Ed Gibbs Electric
Epp Ag Solutions
Ernie Mailloux Farms
Essex County Quail & Poultry
Essex Feed Warehouse
Gord's Abattoire Inc.
Jeff Stratichuck
Kendrick Funeral Home Ltd.
Lanoue Sales & Service
Leamington GMC
LeeAnne Setterington
Maden Industrial Inc.
Mike Vagi
Nikki Taylor
Pap's Farm Services
Delta Power Equipment
Rick Roelandt
Sollio Agriculture
The Feed Store
TS Mullens Farms
Trimble Farms Cattle Company Inc.
Thank-you to the Colchester South & Harrow Agricultural Society.
Your commitment to an Agricultural Fair and 4-H keep us strong.
Marty Unholzer and Jack Morris, Thank-you for a job well done!!
The public is invited to the 2023 4-H Harrow Fair Auction
on Friday, September 1st, 2023 starting at 3:00 pm.
4-H is for Youth age 6-21 yrs. If interested in becoming a member please join us.
For more information contact Dave Unholzer at 519-791-7165 or email: essexcounty4h@gmail.com