Friday, August 30th
at 2:30pm in front of the poultry barn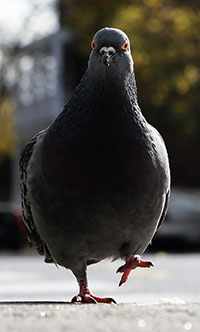 Contestants to arrive 15 minutes early to register
For details: Luke Korcok 519-733-2273
What Is A Roller Pigeon?
Rollers are a special breed of pigeon that are known for their acrobatic abilities. They are the bowling balls of the avian world. Also known as Parlour Tumblers, these pigeons make their way through life not by flying (they can't!), but by somersaulting on the ground.
This Ain't No Beauty Contest
Roller Pigeons are not necessarily judged by their looks. On the contrary, they are judged based on the distance and number of tumbles they take as their handlers roll them across the grass. Watch them flip, flop and flap as they somersault over the ground like a bowling ball with wings.
Pigeon Bowling at it's finest!
Sponsored by The Harrow Feed Store, Harrow
Trophy
By Colchester South & Harrow Ag. Soc.
1st – $15.00, 2nd – $10.00, 3rd – $5.00