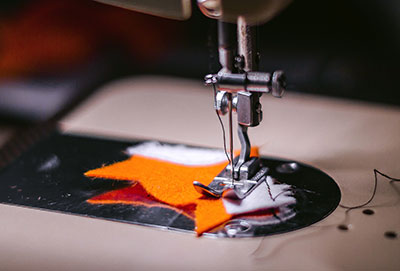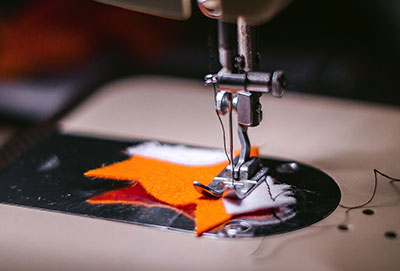 Chairperson: Monica Fennema 226-344-5511
Entries to be in place in the Scout Hall on Wednesday, August 28th by 9:00 pm (Must be completed since last Fair). Entry Forms to be in the hands of the Secretary by Saturday, August 24th.
Judging: Thursday, August 29th – 9:00 am
PRIZES: 1st $6.00, 2nd $4.00, 3rd $3.00
Needle Arts articles are made with fabric, yarn or thread.
"Beginner" categories are for amateurs.
NO wood, wire, plastic or ceramics please.
Clean and smoke free articles only.
Each member may enter only one article in each needle arts section in classes 60-64.
A 2" square must accompany all articles made with yard goods.
Yarn or thread samples of main colours must accompany all articles made with yarn or thread.
Due to the sheer volume of entries which need to be displayed after judging is finished, this building may not be open to public viewing until after 4:00 pm.
No articles to be removed before 5:00 pm Sunday, accompanied by your membership card.
Class 60 – Needle Arts
Chairperson: Monica Fennema 226-344-5511
** Please note Section numbers have changed **
Knitting
Yarn (or yarn wrapper if yarn is used up) or thread samples of main colours must accompany all articles made with yarn or thread.
1. Afghan knitted – beginners, no less than 40×60" (100×150 cm)
2. Afghan knitted – advanced, no less than 40×60" (100×150 cm)
3. Baby afghan knitted – beginners
4. Baby afghan knitted – advanced
5. Lapghan, kinitted, 36×48″ or smaller
6. Poncho, knitted, wrstd, aran, bulky yarn
7. Shawl or wrap, knitted, lace weight yarn
8. Shawl or wrap, knitted, fingering weight yarn
9. Shawl or wrap, knitted, DK, wrstd, aran, bulky
10. Shrug / bolero knitted
11. Ladies' sweater knitted, cardigan
12. Ladies' sweater knitted, pullover
13. Men's sweater knitted
14. Girls' sweater knitted
15. Boys' sweater knitted
16. Ladies' vest knitted
17. Men's vest knitted
18. Children's vest knitted
19. Winter accessories knitted set adult size (either hat & scarf or hat & mittens/gloves or scarf & mittens/gloves)
20. Winter accessories knitted set child size (either hat & scarf or hat & mittens/gloves or scarf & mittens/gloves)
21. Cowl, knitted
22. Character hat, knitted
23. Socks knitted, adult
24. Socks knitted, child
25. Slippers knitted
26. One article ONLY of baby clothing knitted
27. Set of preemie hat & booties, knitted
28. Set of newborn hat & booties, knitted
29. Set of baby clothing knitted, 3 piece set
30. Doll clothes knitted – display one outfit on a card no bigger than 16″x16" (40×40 cm)
31. Novelty purse knitted
32. Article of knitting made of novelty yarn
33. Article of knitting made of handspun yarn, (attach a sample of fleece)
34. Soft toy knitted
35. Dressed doll, knitted, on a stand
36. Cushion, knitted both sides
37. Dish cloth knitted
38. Article of knitting, beaded
39. Article of knitting, felted
40. Shopping bag knitted
41. Afghan knitted – made by a senior citizen (65 years or older)
42. Article of knitted clothing – made by a senior citizen (65 years or older)
43. Teapot cozy knitted
44. Pincushion, knitted
45. Mugrug, knitted
46. Outfit for pet, knitted
47. Christmas stocking, knitted
48. Any other article of knitting, not already listed – made by a senior citizen (65 years or older)
49. Article of knitting, not already listed
50. Article of knitting – Fair theme of the year
Loom Knitting
Yarn (or yarn wrapper if yarn is used up) or thread samples of main colours must accompany all articles made with yarn or thread.
51. Socks, 1 pair
52. Hat
53. Scarf
Crochet, Broomstick lace, Tatting, Etc.
Yarn (or yarn wrapper if yarn is used up) or thread samples of main colours must accompany all articles made with yarn or thread.
54. Bedspread crochet – advanced, no less than 40×60″ (100x150cm)
55. Bedspread crochet – beginners, no less than 40×60" (100×150 cm)
56. Afghan crochet – advanced, no less than 40×60" (100×150 cm)
57. Afghan crochet – beginner, no less than 40×60" (100×150 cm)
58. Baby afghan crochet – beginners
59. Baby afghan crochet – advanced
60. Lapghan, crochet, 36″x48″ or smaller
61. Poncho, crochet
62. Shawl or wrap crochet
63. Sweater crochet, adult
64. Sweater crochet, child
65. Vest crochet
66. Shrug / bolero crochet
67. Winter accessories crochet set (either hat & scarf or hat & mittens/gloves or scarf & mittens/gloves)
68. Cowl, crochet
69. Character hat, crochet
70. Slippers crochet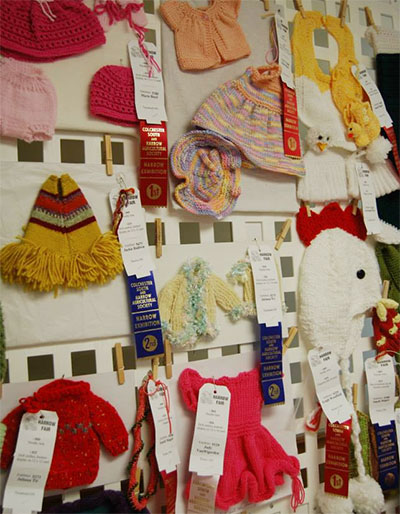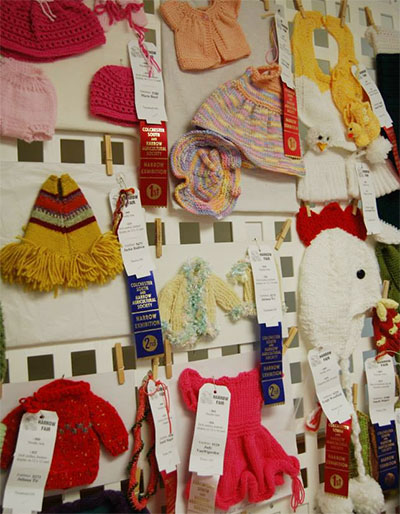 71. One article only of baby clothing, crochet
72. Set of baby clothing crochet – 3 piece set
73. Doll clothing crochet, display one outfit on a 16×16" card
74. Novelty purse crochet
75. Shopping bag crochet
76. Article of crochet made of novelty yarn
77. Article of crochet from handspun yarn (attach sample of fleece)
78. Article of crochet, beaded
79. Soft toy crochet
80. Dressed doll, crochet, on a stand
81. Teapot cozy crochet
82. Pincushion, crochet
83. Mugrug, crochet
84. Cushion, complete yarn crochet
85. Dish cloth crochet
86. Pillow cases with crochet trim, 1 pair
87. Lace doily crochet, 12" (30 cm) or smaller mounted
88. Lace centrepiece crochet, less than 36" (90 cm)
89. Tablecloth crochet, not less than 54" (135 cm)
90. Article of hairpin lace
91. Article of broomstick lace
92. Christmas stocking, crochet
93. Outfit for pet, crochet
94. Article of crochet made by a senior citizen (65 years or older) (thread crochet, #3 or #10 crochet cotton only)
95. Article of crochet made by a senior citizen (65 years or older) (yarn crochet, med to heavy yarn)
96. Article of crochet, not already listed
97. Article of tatting
98. Article of crochet – Fair theme of the year
Needlepoint , Crewel , Counted Cross Stitch, Etc.
Pictures are to be mounted. Measurements to be taken on the worked area only. Worked area is length x width for the size categories. Mounted needlework is not judged on framing, only on quality of stitching. Yarn (or yarn wrapper if yarn is used up) or thread samples of main colours must accompany all articles made with yarn or thread.
99. Needlepoint on plastic canvas
100. Needlepoint mounted
101. Needlepoint, mounted, long stitch
102. Crewel embroidery mounted
103. Article of candlewick embroidery
104. Counted cross stitch mounted, 5×7" (12.5×17.5 cm) or smaller – wildlife or animals
105. Counted cross stitch mounted, 5×7" (12.5×17.5 cm) or smaller – scenery
106. Counted cross stitch mounted, 5×7" to 12×16″ – fair theme of the year
107. Counted cross stitch mounted, med size 8×10" (20×25 cm) approximately – wildlife or animals
108. Counted cross stitch mounted, med size 8×10" (20×25 cm) approximately – scenery
109. Counted cross stitch mounted, med size 8×10" (20×25 cm) approximately – people
110. Counted cross stitch mounted, 5×7″ to 12×16″ – fair theme of the year
111. Counted cross stitch mounted, 12×16" (30×40 cm) or larger – wildlife or animals
112. Counted cross stitch mounted, 12×16" (30×40 cm) or larger – scenery
113. Counted cross stitch mounted, 12×16" (30×40 cm) or larger – people
114. Counted cross stitch mounted, any size – still life
115. Counted cross stitch sampler
116. Article of counted cross stitch, not a mounted picture
117. Article of apparel, decorated with embroidery, cross stitch or shadow embroidery
Embroidery, Cutwork, Etc.
Yarn (or yarn wrapper if yarn is used up) or thread samples of main colours must accompany all articles made with yarn or thread.
118. Tablecloth – hand embroidery, any technique (for example crewel, huck or regular)
119. Tablecloth – hand cutwork
120. Table runner – regular embroidery in colour
121. Pillow cases, 1 pair – embroidery in colour
122. Article of hand embroidery
123. Article of machine embroidery
124. Article of machine cutwork
125. Article of smocking
126. Article of ribbon embroidery
127. Article of needlepunch
128. Flour sack, embroidered
129. Article of Swedish embroidery
Liquid Embroidery
130. Bedspread or quilt
131. Tablecloth – any size
132. Painting on any fabric
133. Pillowcases (1 pair) or cushion top or table runner
134. Wearing apparel
135. Article of liquid embroidery made by a senior citizen (65 years or older)
136. Article of liquid embroidery not already listed
Sewing, Household Items and Toys
A 2" square must accompany all articles made with yard goods. Clean articles only.
137. Hand made wreath of fabric (90% fabric)
138. Table mat, 1 set of 3 pieces for hot dishes, any fabric
139. Table place mats, set of 4
140. Fabric wall hanging, not quilted
141. Soft toy, sewn (not knit or crochet)
142. Hand made teddy bear – undressed
143. Dressed doll, sewn, on a stand
144. Dressed animal, sewn
145. Outfit for a pet, sewn
146. Doll clothes, machine sewn – display one outfit on a card no bigger than 16×16" (40×40 cm)
147. Article of chenille
148. Article of denim
149. Denim shirt decorated with felt, cross stitch, buttons, etc.
150. Tote bag (1 only)
151. Purse (1 piece only)
152. Diaper Bag (1 piece only)
153. Clothes pin bag, any fabric
154. Pillow cases, 1 pair
155. Cushion, sewn, fabric 80″ perimeter max
156. Cushion, novelty
157. Receiving blanket
158. Appliance cover
159. Article of sewing – Fair theme of the year
Clothing
A 2" square must accompany all articles made with fabric. Clean articles only.
160. Costume, 2 pieces – St. Patrick's, Easter, Halloween, Christmas, any fabric
161. Sportswear, 1 or 2 pieces – tap, skating, dancing, band, any fabric
162. Dress, one piece, any fabric
163. Special occasion outfit, any fabric
164. Girls' dress
165. Ladies' skirt
166. Lady's blouse
167. Blazer, jacket, or coat any fabric
168. Suit (jacket & skirt or jacket & pants)
169. Decorated t-shirt or sweat shirt – any technique
170. Man's or boy's shirt, any fabric
171. Article of girls' clothing
172. Article of boy's clothing
173. Two articles of lingerie (women's)
174. Boxers, man's (1 only)
175. Pajamas or nightshirt, adult or child
176. Tea apron, fancy
177. Apron, practical, machine made
178. Any article of sewing, not already listed
Christmas
A 2" square must accompany all articles made with any fabric. Clean articles only.
179. Christmas tree ornament – of fabric, yarn or thread
180. Christmas table centrepiece (90% fabric)
181. Christmas tablecloth or runner
182. Christmas wall hanging
183. Christmas door decoration
184. Christmas tree skirt
185. Christmas stocking, fabric
186. Christmas quilt
Weaving
Textile weaving on 2 or more shafts
187. Woven bag or tote
188. Woven tea towel, 20×30" (50×75 cm)
189. Woven table runner
190. Woven placemats, set of 4
191. Woven scarf
192. Woven baby or lap blanket
193. Any woven article, not already listed
Felting
194. Any article of needle felting
195. Any article of nuno felting
Rug Hooking (not latch)
196. Rug small (6' (1.8m) perimeter or less)
197. Rug large (12' (3.6m) perimeter or less)
Miscellaneous
198. Hearth rug, kit – latch hook
199. Hearth rug, rags, braided
200. Crochet rug any fabric, no plastic
201. Article of latch hook
202. Table runner, any technique(s)
203. Party favours, variety of four (fabric, yarn or thread)
204. Napkin holder
205. Napkin rings, set of 4
206. Refrigerator magnet – made with fabric, yarn or thread
207. Pincushion, sewn
208. Pot holders, 1 pair
209. Baby bib, any material, suggested size 8.5×11" (21.3×27.5 cm)
210. An article made by a senior citizen (65 years or older) – made with fabric, yarn or thread
211. Article of cording
212. Article of jewelry – made with fabric, or thread (no wire or monofilament)
213. Article of beadwork – made with fabric, yarn or thread (no wire or monofilament)
214. Article made from recycled fabric (e.g. jeans or clothing), no plastic
215. Any needle arts, not already listed
216. Guys only, any needle arts article
217. Soft sculpture article
Sewgreen Makeovers
218. Bistro apron from old tablecloth
219. Child's apron from man's shirt
220. Wine bottle bag from shirt sleeve
221. Shirttail bag (eg gift, travel, laundry, shoebag)
222. Cushion cover made from shirt including placket with buttons
223. Toothbrush rug from recycled fabric
SEPARATE ENTRIES
224. By Homecraft Directors
Straw hat (any style) depicting the fair theme – decorated with fabric, yarn, thread, buttons, etc.
1st $6.00, 2nd $4.00, 3rd $3.00
225. By Homecraft Directors
Baseball cap depicting the fair theme – decorated with fabric, yarn, thread, buttons, etc.
1st $6.00, 2nd $4.00, 3rd $3.00
226. By Homecraft Directors
Pillow or cushion depicting the fair theme – decorated with fabric, yarn, thread, buttons, etc.
1st $6.00, 2nd $4.00, 3rd $3.00
227. By Homecraft Directors
Pillow or cushion depicting the fair theme – decorated with fabric, yarn, thread, buttons, etc., made by a senior citizen (person 65 years or older)
1st $6.00, 2nd $4.00, 3rd $3.00
228. By Natalie Abramovich, Harrow
Best Decorated Ladies' Red Hat … 1st $10.00
Specials – Class 60
By Maria's Hair Villa, Harrow
Best Knitted Afghan (sec 1-4) … $5.00
By Shoppers Drug Mart, Harrow
Best Needle Arts not already listed (sec 215)
$20.00 Gift Certificate
By The Sleeth Family
In Memory of Norma Hornbeek
Best Pair of Knitted Socks (sec 23-24) … $10.00
Christmas Stocking, Best of Show (sec 47, 92, 185) … $10.00
By Roberta Hernandez, Essex
Best Knitted Adult Sweater (sec 11-13) … $5.00
Best Article of Ribbon Embroidery (sec 126) … $5.00
By Roberta Hernandez, Essex
Best Cushion (sec 155) … $5.00
Best Novelty Cushion (sec 156) … $5.00
By John & Janet Woodbridge, Harrow
Best Christmas Tree Skirt (sec 184) … $15.00
By Homecraft Directors
Cross Stitch – Best of Show (sec 99 – 117) … $10.00
By The Bridgen Family
In Memory of Laurence Bridgen
Latch Hook Rug (sec 201) … $25.00
By Natalie Abramovich, Harrow
Pincushion, Best of Show
(sec 44, 82, 207) … 1st $5.00
By Cathie & Becky Jenner
In Memory of Mary Root
Child's Socks, Knitted (sec 24) … $10.00
In Memory of Laura Jenner
Hand Made Teddy Bear (sec 142) … $10.00
By Leamington District Weavers Guild
Best Woven Tea Towel (sec 188) … $5.00
Best Woven Scarf (sec 191) … $5.00
Any woven article not already listed (sec 193) $5.00